So, you need a 4′ by 3′ semicircular cut out shape made specifically from our Cabinetmaker brand moving blanket? Or maybe you have a more complex shape? Or perhaps our blankets are just too big for the work you need done.
This video covers all the necessities for making your own custom furniture cover. Only you know what you truly need, so we'll leave it up to you! Here is our how-to painlessly and easily customize our moving blankets into furniture pads, storage pads, or just different sized moving blankets. We demonstrate specifically how to use them for a photo booth!
Our tea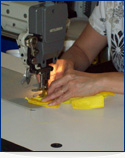 m has many years of service and experience in this industry. This allows us the opportunity to provide a superior product in a reasonable amount of time while still providing a personalized service to our customers. We want to know what you need so that we can make it happen! Design Prototype – By working with you and discussing how your product will be used, we can determine the best materials for your product. We can work from your designs, patterns and products to develop a sample that meets your specifications in a cost-effective manner. Quoting – Each product goes through a time-study process to determine how much time it will take to produce the product. All aspects of manufacturing are taken into consideration including materials, degree of expertise needed, type of machines needed, the amount of time needed to produce and how many units are needed. Our quotes are valid for 90 days. Sewing and Assembly of Product – Our experienced sewing team has established an efficient production process to expedite the manufacturing of each order. Final Inspection of Finished Product – Our finished products are thoroughly inspected for function and quality before being counted, packaged and shipped to the Customer.
CUSTOM CAR SEAT COVER FOR LARGE DOGS, MADE WITH QUILTED MOVING BLANKET
http://https://youtu.be/kNiuvVg1x2k