Custom Furniture Covers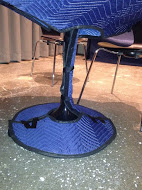 We carry off-the-shelf love seat covers, overstuffed chair covers, sofa covers, and more. But one size doesn't fit all. That's why we custom design furniture covers to meet your needs. Whether you need covers for a sofa, table, pedestal, bench; you name it we got it.
We are up to the challenge. If you can design beautiful furniture – we can design a cover for it!
For the custom quilted blanket cover you see her we were able to design a custom cover to fit various shapes and sizes to meet our customers needs.
.
Mattress Covers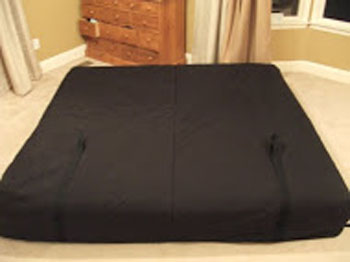 This cover is an example of a customized approach we have to designing all our products.
We look at the project and the end result that a client expects from our covers.
These mattress covers were designed and produced for a major moving company to replace cheap disposable plastic mattress covers. One of our customers asked us to create this abrasive resistance cover with handles because their company had been moving a lot of households with large expensive mattresses. Using the disposable plastic mattress covers was costing them lots of money. Each plastic cover cost them $5 with 500 deliveries in a year totaled $2500/yr. In addition plastic mattress covers did not provide good protection. Moreover large mattresses put a lot of pressure on plastic and if the mattress rubs against a corner or ground the plastic gets easily ripped . In this case the mattress would get dirty and/or wet.
We designed a mattress cover/carrier made out of Ballistic nylon, with four loop handles to make the mattress easy to carry.   The whole cover was closed with a zipper. This provided reliable waterproof and abrasive resistant cover that served them for years.