Mattress Covers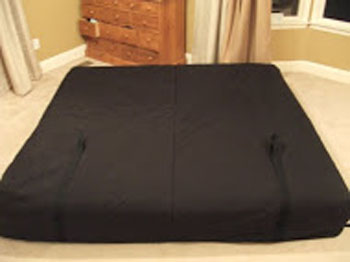 This cover is an example of a customized approach we have to designing all our products.
We look at the project and the end result that a client expects from our covers.
These mattress covers were designed and produced for a major moving company to replace cheap disposable plastic mattress covers. One of our customers asked us to create this abrasive resistance cover with handles because their company had been moving a lot of households with large expensive mattresses. Using the disposable plastic mattress covers was costing them lots of money. Each plastic cover cost them $5 with 500 deliveries in a year totaled $2500/yr. In addition plastic mattress covers did not provide good protection. Moreover large mattresses put a lot of pressure on plastic and if the mattress rubs against a corner or ground the plastic gets easily ripped . In this case the mattress would get dirty and/or wet.
We designed a mattress cover/carrier made out of Ballistic nylon, with four loop handles to make the mattress easy to carry.   The whole cover was closed with a zipper. This provided reliable waterproof and abrasive resistant cover that served them for years.