Exhibits, Displays, and Cabinets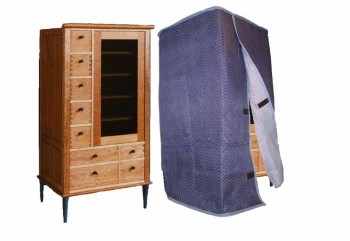 Does your museum or business move, deliver or display valuable items just to find upon  arrival some of them scratched or dented?
Have you showed an item to your clients just to discover a dent or a scratch that was not there! This can be a very embarrassing situation.
We can custom design protective covers for any exhibit, display, or cabinet. This does not only prevent them from scratches, but also keeps your displays looking very professional. Since our custom covers are custom made, it is easier to put them on rather than traditional moving blankets.
Our custom moving blanket covers are made out of thick quilted material that makes our quilted custom covers the best custom moving blankets around.